Bilvavi On The Hagaddah is a collection of insights of the Rav arranged according to the Pesach Hagaddah, culled from the derashos that have been collected in "Pesach Talks", as well as some sections from sefer "Bilvavi Mishkan Evneh - Pesach", and from snippets of various other derashos of the Rav.
The purpose of this commentary is not merely to offer a simple commentary on the Hagaddah, nor is it about presenting intellectually stimulating questions and answers. Rather, as with all the other works of the Rav, the purpose here is to awaken the heart, in a way that enlightens the intellect and infuses the heart with an intense desire to come closer to the Creator.
We sincerely hope that all those who read and contemplate the Rav's words on the Hagaddah will understand the depth and become spiritually elevated through these insights, whether in the days preceding Yom Tov, or at the Pesach Seder, or throughout the Yom Tov of Pesach and onward – and to grow infinitely higher throughout the rest of our lives, in our avodas Hashem.
Click to download the PDF Bilvavi Hagaddah [1]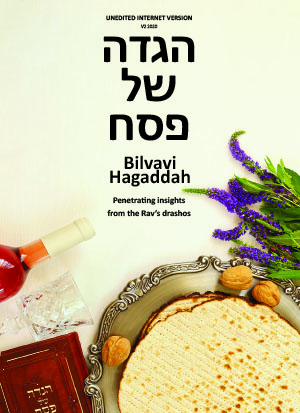 [1]